Cricket bat selection can be a challenge. Which one will have the best performance and last you the longest? On the other hand, you probably think to choose the best option budget-wise, as they can range from affordable to really expensive ones. This simple cricket bat buying guide breaks each step down into several simple steps to help you.
Identify Your Budget
You should always set a budget before entering a store to purchase your cricket bat. You'll be able to refine your search, and also helps the bat specialists find bats in your price range. While price shouldn't be the most determining factor, it should be considered when buying sports equipment. There are many different bat models, but the shape of the bats is usually the same. Once the player knows what type of model they are looking for, they should choose the one that fits their budget.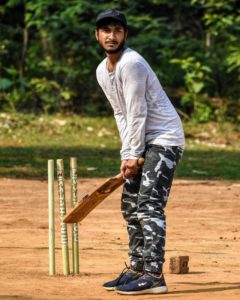 Choose The Shape You Want Based on The Playing Style
Cricket bats can have a variety of sweet spots, profiles, scallops, edges, etc. These characteristics affect the bat's performance in different ways. Cricket bats are generally designed for all 3 forms of the game: T20, ODIs, or Tests. Nevertheless, some bats are created specifically for certain types of cricket and are shaped in such a way as to suit a particular game form It is also important for players to determine what is their playing style. It is possible to design bats with a flatter sweet spot to increase stroke play value. Thus the sweet spot can be positioned mid-to-low or mid-to-high.
Decide What Weight is Right for You
Following are weight and pickup, which are two of the most important aspects of selecting the right cricket bat for you. A bat that is too light or too heavy will have a poor impact on your performance. It won't make a difference how big your bat is if your shooting ability isn't good enough. Also, a bat that is too light won't do you any good either. It has always been suggested that the heavy bat with a bulky profile will hit the ball further but this is not necessarily true. In most cases, you will probably have a thinner profile and edge with a lighter bat.
Performance Is Everything
A bat can be made from any of five different grades of willow. Grade 1 willow with 8-10 grains and very few blemishes on the bat usually performs the best. They are also the most expensive ones. It is common for inexpensive bats to be crafted of Grade 5 willow, having 4-5 grains, and having a greater number of blemishes. A bat's grade is an indication of its performance. However, performance varies from brand to brand. A bat with a higher grade of willow can be used right away, while others will require more time to reach their ideal performance. It is possible that bats that use a lower grade of willow perform better than bats that use a higher grade – but that also depends on the brand.